Data Vault 2.0 mixed approach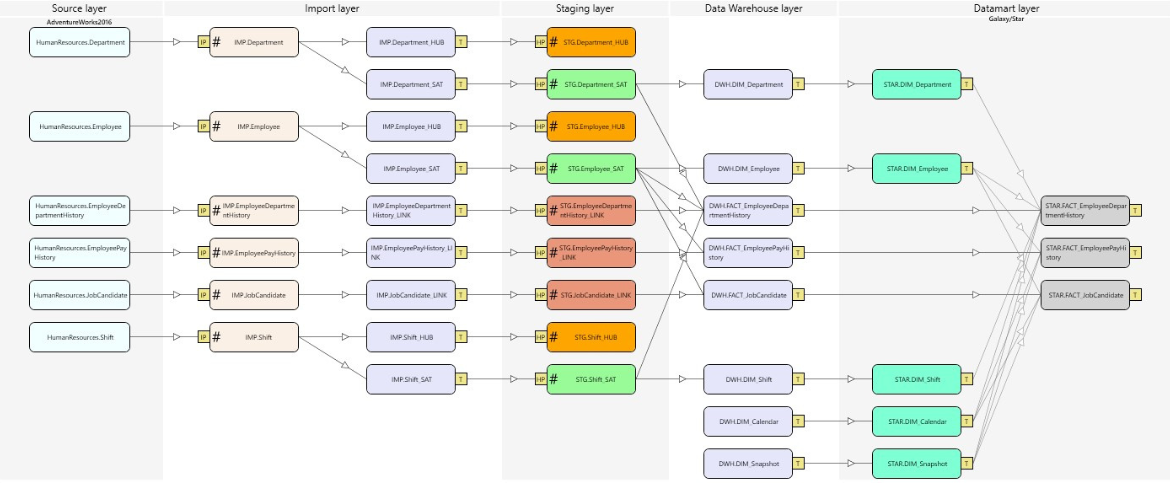 In this post we will provide an upgraded modelling technique overview which AnalyticsCreator customers can use, easily out of the box. Many of our customers are working with this approach.

There are two options, you can use in the storage, layer Data Vault 2.0 and on top the mixed approach, or you use only the mixed approach without Data Vault 2.0 in the base layers. We believe that AnalyticsCreator's, Data Vault 2.0 mixed approach could be important for all developers.

With AnalyticsCreator you have the possibility to use many useful modelling techniques from Data Vault 2.0 in the traditional dimensional modelling (Kimball) approach.
In addition, we offer the possibility to automatically "hash" your Kimball model and thus implement in the Kimball model one of the most important features of Data Vault 2.0.
This means that in addition to the primary keys and subject table relationships, the hash keys and hash key relationships can also be created.
Thus, to each table a PK (primary key) hash key - field is added and additionally the reference FK (foreign key) hash key - fields, if a table is referenced with the other table.
And between the PK hash key fields and FK hash key fields the references are created, which can be used instead of the subject references.
The PK and FK hash key fields are created as persisted calculated columns to speed up the access to the hash keys.

"Hashing" the data model brings key benefits of Data Vault 2.0 modelling to the Kimball world without making the data model more complex.
The user then always has the option to choose between the subject PK and relationships and the hash key PK and relationships, because both exist in the data model, and both can be used.
If you are interested to learn more about the AnalyticsCreator new approach, please send us an email:
sales@analyticscreator.com, register to one of our following events: Events of AnalyticsCreator Solutions GmbH | Eventbrite, or schedule a meeting with CEO Peter Smoly: Meet with Peter Smoly (hubspot.com).