AnalyticsCreator Achieves Top Rankings and Leading Positions in BARC Data Management Survey 24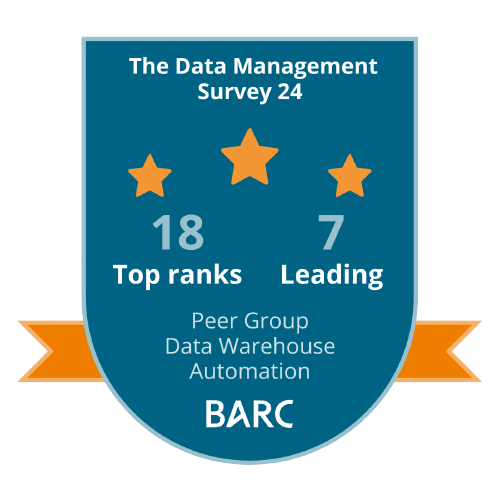 We are thrilled to announce that AnalyticsCreator has achieved 18 top rankings and 7 leading positions out of 25 KPIs in the BARC Data Management Survey 24! This is a testament to our commitment to providing our customers with the best possible data management solutions.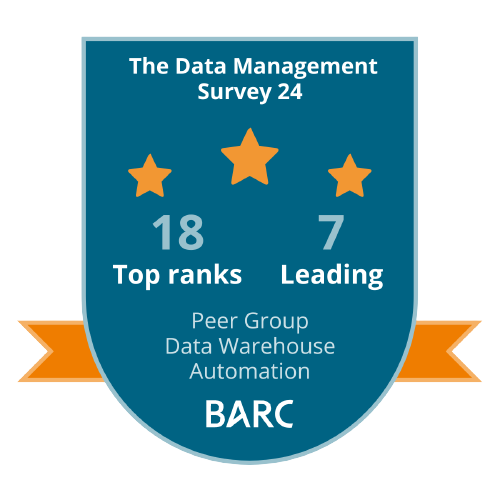 This year, we achieved 11 top rankings and 7 leading positions, up from 6 top rankings and 8 leading positions in 2022. We have also consistently achieved top and leading positions in the survey since 2019.

The BARC Data Management Survey is the most comprehensive and respected survey of data management solutions in the world. It assesses vendors across a wide range of criteria, including data quality, data governance, data integration, data warehousing, and data analytics.

Our strong performance in the survey is a validation of our approach to data management. We believe that data management should be simple, efficient, and scalable. Our software automates many of the complex and time-consuming tasks associated with data management, freeing up our customers to focus on their core business.

We are grateful to our customers for their continued support. We are committed to continuing to innovate and develop solutions that help them to get the most out of their data.
Here are some of the highlights of our performance in the BARC Data Management Survey 24:
Top ranking in the following categories:
Business Benefits

Project Length

Business Value

Sales Experience

Time to Market

Product Enhancement Functional Coverage Self-Learning

Functionality

Adaptability

Deployment & Operations Development & Content

Creation

User Experience

Platform Reliability

Extensibility

Technical Foundation

Competitive Win Rate

Competitiveness
Leading positions in the following categories:
Project Success

Price to Value

Recommendation

Vendor Support

Implementer Support

Customer Satisfaction

Ease of Use

We are proud to be recognized as one of the leading providers of data management solutions. We are committed to helping our customers to succeed in the data-driven economy.