Back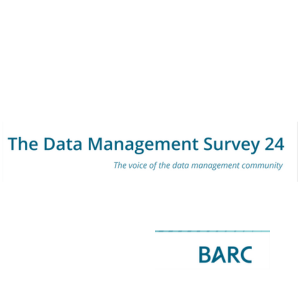 AnalyticsCreator performed very positively in this year's survey, as it did last year. Its scores are above average in almost every KPI, with 18 top rankings and leading positions in a further 7 KPIs.
DOWNLOAD FILE
This document provides the highlights of BARC's results in The Data Management Survey 24.
This global study shows the results OF SEVERAL categorys and KPI's. AnalyticsCreator not only frequently achieves first place, but also gets a maximum score of 10/10 in six of the KPIs, which is a remarkable achievement.
89 percent of the users surveyed reported having no significant problems with the software, which is an unusually high proportion.
BARC is one of Europe's leading analyst firms for business software, focusing on the areas of
data, business intelligence (BI) and analytics. The company was founded in 1999 as a spin-off of the chair of Business Administration and Information Systems at the University of Würzburg, Germany.

Today, BARC combines empirical and theoretical research, technical expertise and practical experience, and a constant exchange with all market participants to provide market-leading research publications, events and advisory.