Use AnalyticsCreator with 250+ enterprise data sources!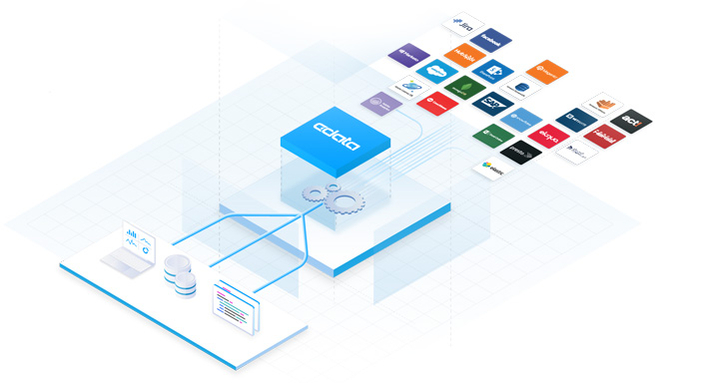 If you are working with multiple data sources, we have good news for you. You can connect more than 250 data sources with your Data Warehouse.
We are happy to announce our partnership with CData.
AnalyticsCreator continues to expand its service network day by day. Now you can connect more than 250+ data sources on our platform.
A universal data connectivity platform for SaaS/cloud.
Cloud-to-cloud data connectivity.

Already works with all the applications you use today.

Real-time integration with 250+ Enterprise sources.
Data Sources
Connect your BI, Analytics, ETL, & custom applications with any SaaS, NoSQL, or Big Data source.
ADP
Access
Act CRM
Act-On
Active Directory
ActiveCampaign
Acumatica
Adobe Analytics
Airtable
AlloyDB
Amazon Athena
Amazon DynamoDB
Amazon Marketplace
Amazon S3
Asana
Authorize.Net
Avalara AvaTax
Avro
Azure Active Directory
Azure Analysis Services
Azure Data Catalog
Azure Data Lake Stor.
Azure DevOps
Azure Synapse
Azure Table
Basecamp
BigCommerce
BigQuery
Bing Ads
Bing Search
Box Btrieve
Bugzilla
Bullhorn CRM
CSV
Cassandra
Cloudant
CockroachDB
Confluence
Cosmos DB
CouchDB
Couchbase
DB2
Databricks
DocuSign
Dropbox
Dynamics 365
Dynamics 365 Bus.Central
Dynamics CRM D
ynamics GP
Dynamics NAV
Elasticsearch
Email
EnterpriseDB
Epicor ERP
Exact Online
Excel
Excel Online
FHIR
FTP
Facebook
Facebook Ads
FinancialForce
FreshBooks
Freshdesk
GitHub
Gmail
Google Ad Manager
Google Ads
Google Analytics
Google Calendar
Google Campaign Manager
Google Cloud Storage
Google Contacts
Google Data Catalog
Google Directory
Google Drive
Google Search
Google Sheets
Google Spanner
GraphQL
Greenplum
HBase
HCL Domino
HDFS
HarperDB
Highrise
Hive
HubSpot
IBM Cloud Obj.Stor.
IBM Cloud SQL Query
IBM Informix
Impala
Instagram
JDBC-ODBC Bridge
JSON
Jira
Jira Service Desk
Kafka
Kintone
LDAP
LinkedIn
LinkedIn Ads
MYOB AccountRight
Magento
MailChimp
MariaDB
MarkLogic
Marketo
Microsoft Dataverse
Microsoft Exchange
Microsoft OneDrive
Microsoft Planner
Microsoft Project
Microsoft Teams
Monday.com
MongoDB
MySQL
Neo4J
NetSuite
OData
Odoo
Office 365
OneNote
Oracle
Oracle Eloqua
Oracle Financials Cloud
Oracle HCM Cloud
Oracle SCM
Oracle Sales
Oracle Service Cloud
Outreach.io
Parquet
PayPal
Paylocity
Phoenix
Pinterest
Pipedrive
PostgreSQL
Power BI XMLA
Presto
QuickBase
QuickBooks
QuickBooks Online
QuickBooks POS
REST
RSS
Raisers Edge NXT
Reckon
Reckon Accounts
HostedRedis
Redshift
SAP
SAP Business One
SAP BusinessObjects BI S
AP ByDesign
SAP Concur
SAP Fieldglass
SAP HANA
SAP HANA XS Advanced
SAP Hybris C4C
SAP Netweaver Gatew.
SAP SuccessFactors
SAS Data Sets
SAS xpt
SFTP
SQL Analysis Services
SQL Server
Sage 200
Sage 300
Sage 50 UK
Sage Cloud Accounting
Sage Intacct
Salesforce
Salesforce Marketing
Salesforce Pardot
Salesloft
SendGrid
ServiceNow
SharePoint
SharePoint Excel Ser.
ShipStation
Shopify
SingleStore
Slack
Smartsheet
Snapchat Ads
Snowflake
Spark
Splunk
Square
Streak
Stripe
Sugar CRM
SuiteCRM
SurveyMonkey
Sybase
Sybase IQ
TSheets
Tableau CRM Analytics
Tally
TaxJar
Teradata
TigerGraph
Trello
Twilio
Twitter
Twitter Ads
Veeva
Veeva CRM
Wave Financial
WooCommerce
WordPress
Workday
XML
Xero
Xero WorkflowMax
YouTube Analytics Z
endesk
Zoho Books
Zoho CRM
Zoho Creator
Zoho Invent.Zoho P.
Zuora
eBay
eBay Analytics
xBase
… Dozens More(API Driver)
Here is a list of all connectors
Let's have a look at benefits of CData;
Unify access to all of the cloud applications, databases, APIs, and services that you use across your organization.
Every Data Source that Matters (250+ Enterprise Sources)
Quickly connect your data from anywhere. In the cloud, on-premises, in a proprietary system, or a combination of all three.
Easy Connectivity for Analytics & Integration
Universal connectivity through standard database interfaces like MySQL & TDS, widely supported by every data-centric application, RESTful APIs, Drivers (ODBC, JDBC, & ADO), and connectors for Tableau, Power BI, Excel, and more!
Real Time Bi-directional Data Services
Data sources are defined as virtual databases and expose standard database tables, and views supporting reads, writes, updates and delete operations.
Enable Self-service
Configure CData Connect, and enable self-service data access for knowledge workers, business analysts, data scientists, and developers.
Govern All of your Data Assets
Monitor and control data access through centralized reporting and granular security at the user level.
Companies like Hubspot, Google are also using CData! Here you can see some users of CData.
Feel free to contact us for further questions.
info@analyticscreator.com